Vancouver Maternity Boudoir – The Best of Both Worlds for Baby #3
Maternity Boudoir Session Featuring Mama Q
After shooting a family maternity session with Ms. L and seeing that her images were a crossover into Boudoir (go check out her incredible photos), I knew I wanted to offer more pregnant women the opportunity to document their beautiful and miraculous bodies in a boudoir style. So who could I shoot a Maternity Boudoir session for next?!
Enter my wonderful Lead Hair & Makeup Artist Jenny, who invited some friends to join my online VIP Club on Facebook called The M Lounge: Mateus Studios VIP – (feel free to join if you haven't yet). One of those friends was Ms. Q who over a few months I've gotten to know through the group as a mama of 2 with another babe on the way. I was thrilled when she reached out to share that she really wanted to document this pregnancy and so her maternity boudoir shoot was in the works!
Scheduled for later in her 3rd trimester, she was unexpectedly put on bedrest. While she thought she'd have to cancel her session, I knew how important it was to her, so we decided to make it happen. Instead of a studio shoot, we brought the studio gear to her! Ya gotta do what ya gotta do to keep mama and babe safe!
Ms. Q was also kind enough to answer a few questions about her experience and I'm so proud of her for what she's overcome in recent years. She is a force and yet the sweetest and most gentle woman. She has since given birth to a healthy baby boy (just days after our shoot) and I couldn't be more happy for her! Let's get to know Ms. Q!
How did you feel during the process of working together?
Working with Michele was an amazing experience! She made me feel so comfortable and relaxed
I loved her bubbly nature and her ability to make anything work. I trusted her wholeheartedly to capture a very important event in my life and she did an incredible job!
What were some of the fears you had about doing a maternity boudoir/intimate portrait session?
I was scared of looking fake. I'm a very simple creature and have never been a big fan of makeup or clothing that doesn't represent me. I was concerned the photos would look like someone else, but she did a great job capturing the real me. I felt so comfortable because she truly listened to all of my concerns and respected my decisions.
What life experiences led you to wanting to do a Maternity Boudoir Photo Shoot?
I have been through many years of emotional, psychological and sexual abuse which made me question every move I made and gave me horrible anxiety. I had a hard time making decisions for myself due to the constant negative comments in my head. I was trained that my body was a sexual object and I was only on this earth to please others. I finally separated from my ex-husband in 2019 and have been on a journey of self-reflection and growth since! It's been a tough journey but my mind and body have become so much stronger. I'm in such a different place emotionally, spiritually and physically!
This boudoir session was about capturing my new found strength and confidence, as well as the new life I was creating. It was also a reminder that I'm not just a sexual object for others to enjoy. This photoshoot was for me!!
What does living your best life mean/look like to you?
Living my best life includes lots of time in nature, enjoying the small things and keeping it simple. I love spending time with all 3 of my kids and my incredible partner! Anything that makes me laugh and fills my heart with joy.
What advice would you give to your younger self?
Stop trying to be someone you're not! Do what makes you happy and comfortable. You're not here to please others!
What's your best tip for feeling amazing in your body?
Do things that make you happy! Smiling and laughing releases the feel good chemicals in the body.
What does feeling sexy mean to you?
I feel sexiest when I'm being physical. Strength is very sexy to me.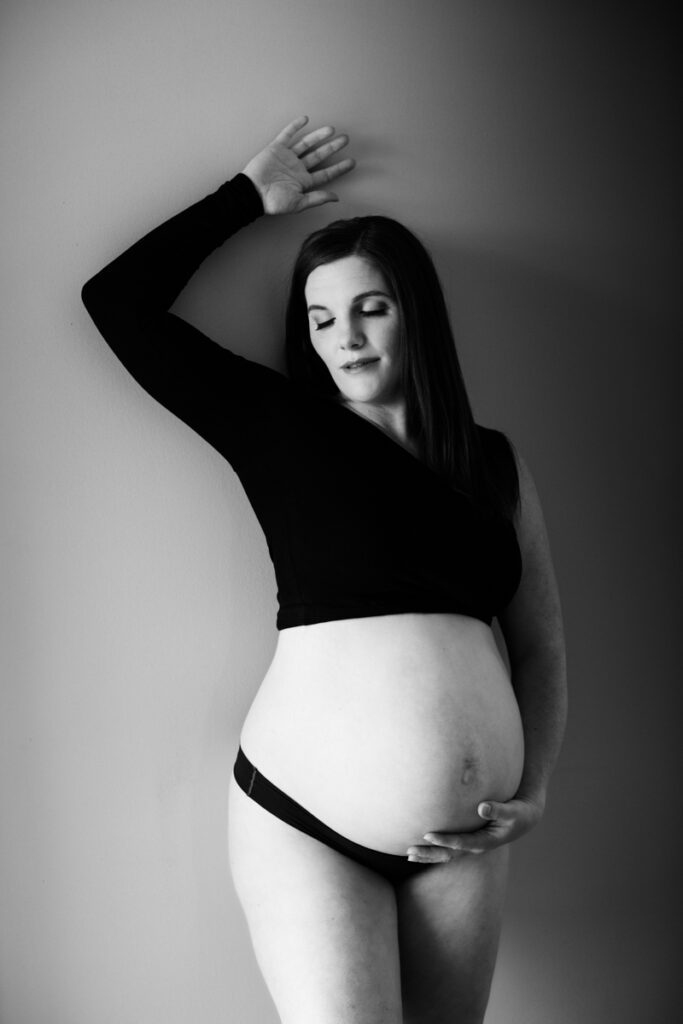 What advice would you give someone on the fence about doing a maternity boudoir/intimate portrait session with Mateus Studios?
The time is now!! Don't wait until you're finally ready because that day may never come and one day you'll look back and wish you would have done it!
---
Ms.Q, thank you so much for allowing me into your home to capture your radiance. I'm so happy for you and your sweet family. Your strength and determination is incredible and I'm really proud of you for making those tough choices to benefit you and your kids. Way to be a wonderful role model mama!!
Friends, if you know of someone expecting who might be keen to document their pregnancy, please connect them with me. I'd love to meet them and maybe that's you?!
Photos shared with permission.
Michele Mateus is a Boudoir, Intimate Portrait & Nude Fine Art Photographer located in Coquitlam, BC. Serving Coquitlam, Vancouver, Greater Vancouver and Fraser Valley, BC. Studio, Outdoor and On-location Boudoir Photography.
Hair & Makeup By Jenny Valla.
Let's Make
Magic Together!
I Look Forward To Having
You In My Vancouver Boudoir
And Portrait Studio!
Michele Mateus is an award winning Vancouver Boudoir and Women's Portrait Photographer. Serving Coquitlam, Vancouver, Fraser Valley, Langley, Abbotsford, Squamish, Burnaby, Surrey, North Vancouver, West Vancouver, New Westminster and the Great Vancouver area.