INK'D: A BLOG SERIES ON SELF EXPRESSION THROUGH TATTOOS AND BOUDOIR PHOTOGRAPHY
BOUDOIR PHOTOGRAPHY FEATURING INK'D MS. S
You may recall that we've done a few INK'd tattoo blog posts already about incredible women and their body art, and next up on INK'd is Ms. S. I met Ms. S through our shared business coach, Lisa V. We were in a group coaching program together and after one coffee date, we hit it off and were fast friends! I love her drive, her creativity and her spunk! I knew I just had to photograph her for INK'd and then when I saw she had a RuPaul tattoo (I'm a huge fan!), I was beyond excited to hear more about the stories behind her art work.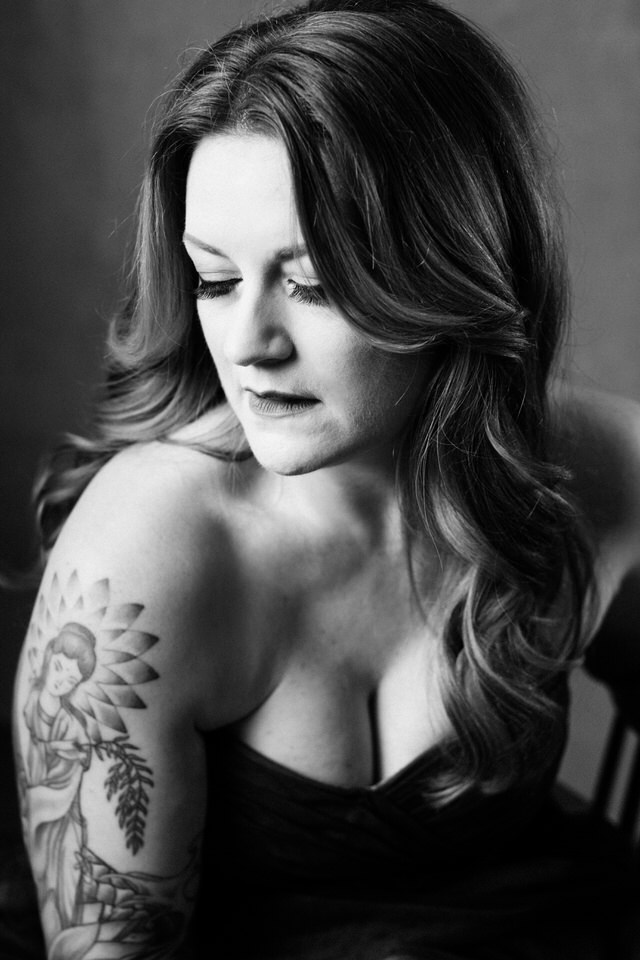 You may also notice a little something different, though extra special, in this INK'd blog. Ms. S is such a colourful woman and in shooting her session, I was so inspired by her that I wanted to see her images in colour. I just love the colour photos and I hope you do too!
So let's get to it. Meet Miss S!
Ms. S in Her Words
Like Meredith Brooks says, "I'm a little bit of everything all rolled into one." I'm an interior designer, a musician, an actor. A crazy cat Mom and animal lover. A wife, a friend, a daughter. I'm a practicing witch, a spirituality and self-development junkie. I'm a recovering people-pleaser and armchair psychologist. I'm a Virgo. I'm a science fiction (especially Star Trek) and comic book (especially Marvel) nerd. I'm a punk. I'm a dreamer. I look for the wonder in everything.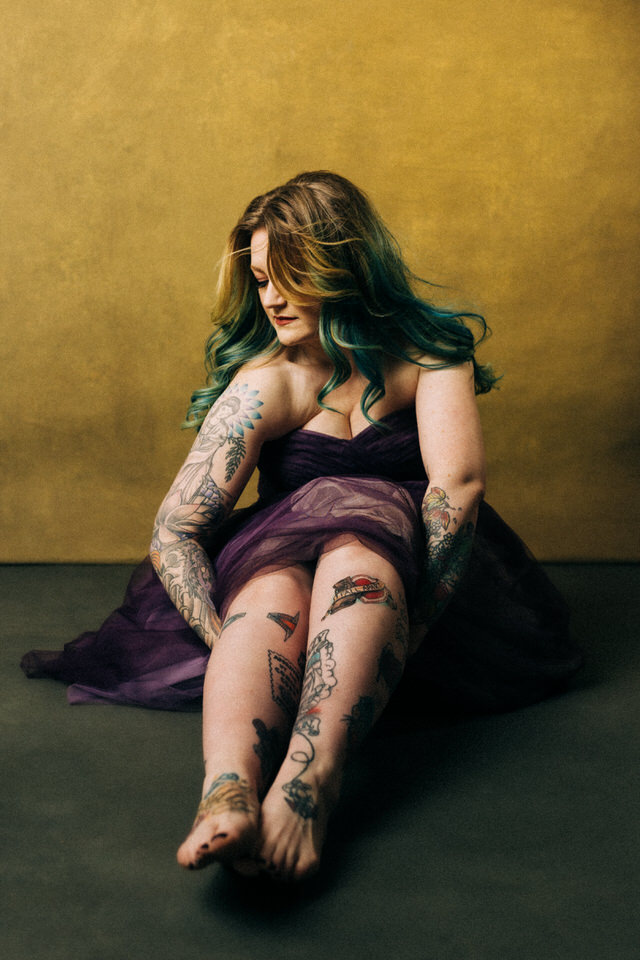 What inspired you to get your first ink? How old were you?
I was 19. My boyfriend and I went to get corresponding (not matching) tattoos. My best friend at the time told me not to do it because she didn't think we'd last. Now we've been together 20 years and have 3 corresponding/matching tattoos each.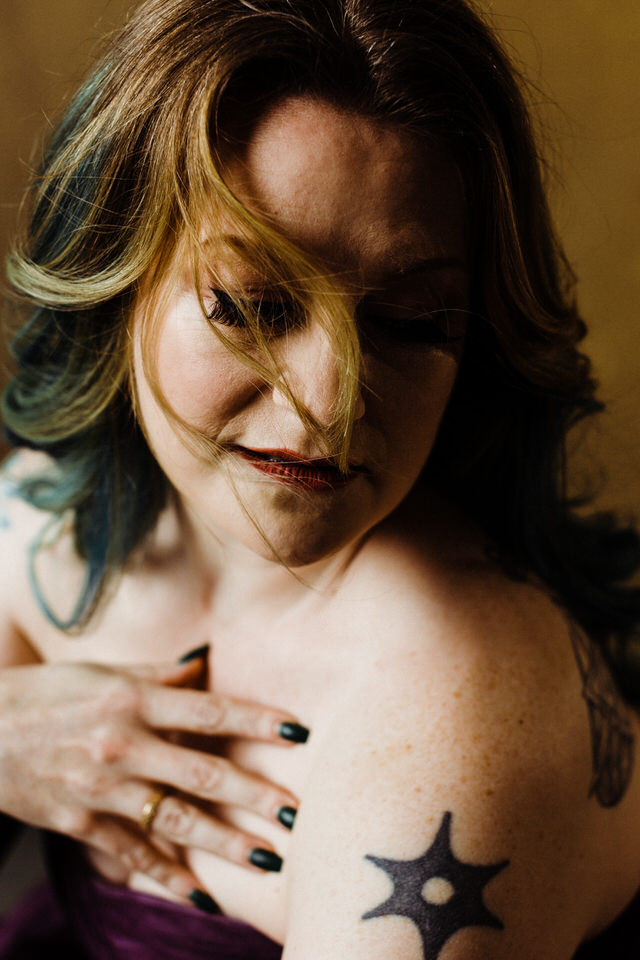 What challenges have you faced in relation to your body? Did getting ink'd help with these challenges?
I have a chronic illness called adenomyosis. Two of the major symptoms that affect me the most are constant pain and extreme fatigue. Generally the first treatments a woman with this disease is put on are hormonal, so I've struggled with weight gain on top of other symptoms, which created a severely dysfunctional relationship with my physical body. When I was younger I was very fit, but slowly over time it became difficult to maintain an exercise regime. I've done a lot of work in the past 4 years on healing the relationship with my physical self, as well as working with an amazing healthcare team to address my conditions.
Tattoos haven't directly played into that, but having art to show off does make it easier to love my body on difficult days.
Did you face judgement when you got your body ink'd? If so, how did you work through that?
My mother once told me, "Only hookers and hooligans get tattoos." I think a lot of people still believe that to be true. I once lost an interior design job with conservative clients when they first realized that I had tattoos. I've been asked to cover up in the workplace to appease conservative or religious clientele.
"I've been cat-called and sexually harassed for my tattoos, and people think it's okay to grab my arms when they look at my art. I grew up in the punk and alternative scene, so I knew I'd face judgement for my choice – but it's never stopped me. My tattoos are sacred to me."
How many tattoos do you have? What meaning/memories do they hold for you?
I have 28 tattoos, including a half-sleeve and full-sleeve. Both of my lower legs are also tattooed, as well as my upper and lower back. My tattoos tell the story of my life; I've got everything from a memorial to my beloved Granny, to lyrics from songs I love, to a portrait of RuPaul and a Lego Stormtrooper. My tattoos are as varied as my interests, some extremely spiritual and meaningful, some fun and silly. Just the way I like it.
How have tattoos allowed you to express yourself?
"I love having tattoos. I love walking through the world with my life story on my skin. I love the conversations that get started, especially when the questions are respectful and genuinely curious. I love being colourful and I love being able to share the gorgeous imagery created by the artists who have marked me."
What advice would you give someone on the fence about getting ink'd?
BE SURE. Be absolutely sure. There is only ONE tattoo on my entire body that I didn't put a great deal of thought and intention into, and it's still one I absolutely love because I respect the artist deeply. Conversely, I have a tattoo of something that means a lot to me which didn't turn out how I wanted, because I rushed to get it and dealt with an artist who was disinterested and just slapped something together.
Do your research, ask people like me who we'd go to for the image you're considering, as not every artist can tackle every style. As I said before, my tattoos are sacred to me – treat yours like an important journey.
What did it feel like to have a photo session that focused on exploring the art of your body and on your body?
"SO AMAZING! I'd had photographers be interested in my tattoos before, but to combine a celebration of the curves and swerves that act as the canvas? That was unique."
As women we're so conditioned to hate our physical forms, but our bodies are here to carry us. Our bodies are our home. It's past time for a shift in the narrative and the return to loving our physical form as well as our psyche. One cannot exist without the other, so why continue to separate them and vilify the physical? Only when we're able to acknowledge and accept ourselves inside AND out can we be whole.
How did you find your tattoo artists? Do you have a favourite one you can recommend?
My very first tattoo, and the majority of the work on my body, was done by Mikel Johnson who tattoos out of Sacred Heart in Mount Pleasant. He has become a wonderful friend and my husband and I routinely return to him for work. Back in 2001, when I got my first tattoo, you had to shop around; whether that was asking around for a good artist or stopping into shops to look at their artists' portfolios. Now they've all got websites and Instagram, but it's still a good idea to ask friends or family who have tattoos for recommendations.
My artists and their Instagram's:
Mikel Johnson – @mikel_tattoosangha
Dave Pelham – @hellfx
Shannon O'Shea – @thewaterwitch
Miles Kanne – @mileskanne
Nicole Nowicki – @interstellarwhispers
Geri Kramer – @gerikramertattoos
Tami – @tamitattoos
Tio Lu – @tiolu_tattoo
What do you want other women to know about expressing yourself through the art of tattoos?
"Don't let other people's opinions of you stop you from doing what you want, ever. Don't fear that your idea for an image is silly or not "deep" enough. The art of tattoo is a celebration of our lives and our personalities."
Also, it's totally acceptable to shop around for an artist you feel comfortable with before you go ahead with the work – it hurts, it's expensive and it's PERMANENT! You have to work with someone who makes you feel good.
Did you have fears about doing a boudoir/intimate portrait session?
I'm fairly fearless when it comes to this kind of experience, and I was eager to celebrate my relationship with my body and how far I've come in that regard. I respect any woman who takes this step for herself, as I know not everyone is a natural nudist like me!
"Boudoir is absolutely worth it, to see yourself in a different way and reconnect to a part of yourself that is often overlooked. Michele makes the experience so special; it's a ceremony, a safe and magical space to celebrate and luxuriate in your physical self."
---
Thank you Ms. S for sharing all of this and for trusting me with your Boudoir Experience in featuring you and your beautiful body and your incredible work of ink'd art. I'm so inspired by your strength and confidence despite your difficulties with your illness and I love your self-awareness and knowledge of exactly who you are!
Ms. S also hosts a Podcast called Heartspace Conversations and she kindly had me on to talk everything photography! You can have a listen here! There's 3 parts to the podcast so scroll down to find part 2 & 3 labelled Michele Mateus.
Do you have tattoos that you'd love to memorialize through a Boudoir Photo Session Experience?
Photos shared with permission.
Michele Mateus is a Vancouver Boudoir & Portrait Photographer located in Coquitlam, BC. Hair & Makeup By Jenny Valla.
Let's Make
Magic Together!
I Look Forward To Having
You In My Vancouver Boudoir
And Portrait Studio!
Michele Mateus is an award winning Vancouver Boudoir and Women's Portrait Photographer. Serving Coquitlam, Vancouver, Fraser Valley, Langley, Abbotsford, Squamish, Burnaby, Surrey, North Vancouver, West Vancouver, New Westminster and the Great Vancouver area.